You want your home landscape to look stunning, and boy would a stone walkway or rustic patio look sharp.
For those considering some stone landscaping ideas, you've come to the right place. We're here to inspire you to design the property you've always wanted.
Let's explore some of our favorite hardscape design ideas:
Lay Down a Stone Landing
Consider installing a stone patio and creating a spot for a fire pit or cozy seating area. Patios like these could also function as a focal centerpiece to show off your favorite statue, entertain or escape to be alone!
We snapped the above photo mid-construction to give you an idea of our hardscaping. Many people enjoy placing some wooden chairs and planting beautiful flowers around structures like this. It's quite similar to this natural look or this red stoned oasis. Some even combine this stone landscaping idea with a retaining wall to create the feeling of a secluded, outdoor "room."
Install a Patio
Above, you see our team hard at work constructing a stone patio, leading to a circle seating area with a raised fire pit. A patio could be a welcoming place to entertain guests, sit down for family dinner or relax after a long day.
Here's a stone landscaping idea: add retaining walls and plant boxes to complement a sharp, new patio. The right decorations can even make a simple cement patch in your backyard inviting, like in this Pinterest find.
Sharpen Your Entryway
Perhaps your wooden front steps are looking pretty shabby. Consider replacing them with a brick front landing, like the hardscape design we've installed above.
Adding blue stone steps may also be the perfect complement to your Massachusetts home, or perhaps circular, round-edge steps would pair well with your back doorway.
We have some excellent tips for framing your entrance way and other landscaping tips for your New England-style home or bringing attention to your doorway on our blog, too.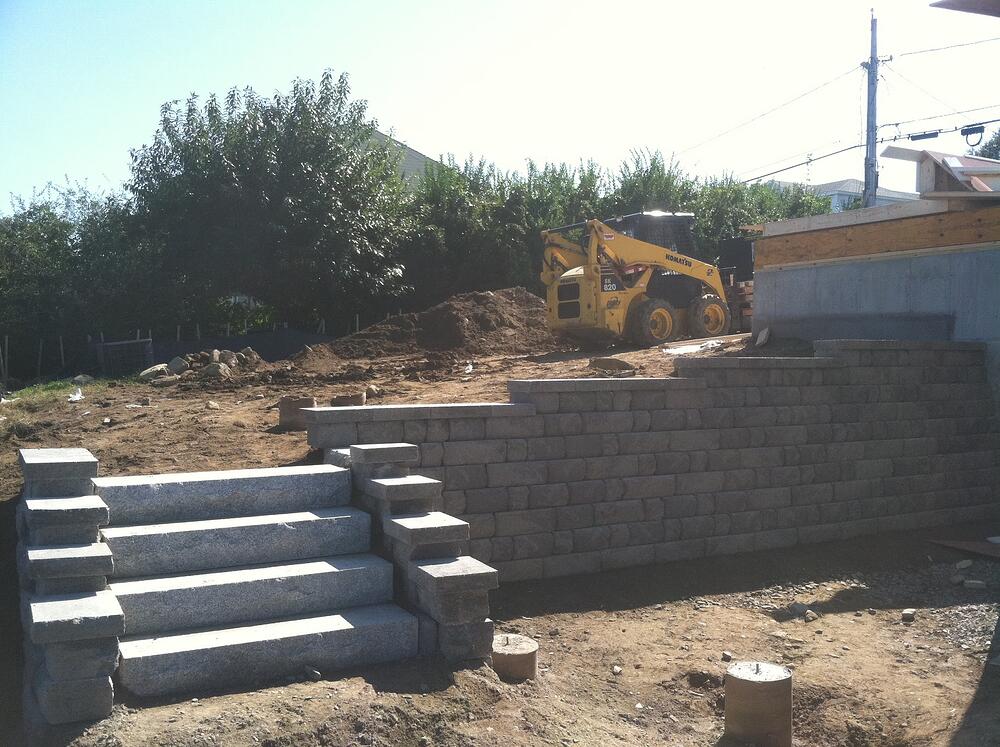 Add Unconventional Steps
You can add steps to more places than your doorways. For yards with drastic shifts in elevation, consider adding a retaining wall and steps to give your space depth and interesting dimension.
The above image is one of our hardscape design projects mid-construction, but even at that stage in the upgrade, you can envision how sleek this yard will look after planting fresh grass and adding some personal touches.
Consider how this unique curved wall might look leading off your driveway or adding simple lights to brighten your stairway at night.
Build a Retaining Wall
By this point, we've shown structures with complimentary retaining walls quite a few times, but we don't want you to miss this hardscape design feature, so we'll highlight it exclusively.
These walls can work as perimeters to your yard, helping to contain small dogs or children, just like the one we installed above. They could also be used to frame your backyard and block your view of neighbors property for additional privacy like in this landscape construction example.
Wind Down a Sidewalk or Walking Path
Sidewalks usually lead to doorways, but they could also bring walkers to your beautiful flower garden or to a private seating area.
A pattern like this one utilizes stones of different shapes and sizes, straying away from a traditional hardscape design. Others can wind in curves to instill a weaving feeling with each step, making your yard both feel and look physically larger.
Plant Softscape like Trees, Shrubs & Flowers
When you think of landscape construction, it's easy to think of just hardscape installations, but some of the most creative and stunning work comes from adding those soft final touches.
Don't forget to plant some greenery to frame your new sidewalk, patio or other landscape addition. Here you can see the Swazy & Alexander crew churning up some dirt to spruce up this Massachusetts home with more flowers and shrubs.
Looking for More Landscape Ideas?
If you're considering upgrading or designing your property, we have a ton of great resources for you.
Create your own landscape plan with the help of this step-by-step article or increase your curb appeal with this information-packed, 16 page guide: The Ultimate Guide to Curb Appeal.
We've also got some great advice for picking the right landscape designer, though we've been trusted by clients all across the Newburyport area and would love to be your number one choice.
Many of structures depicted aren't something you can install yourself. Explore our Landscape Construction Services and let us help you bring your ideas to life today.