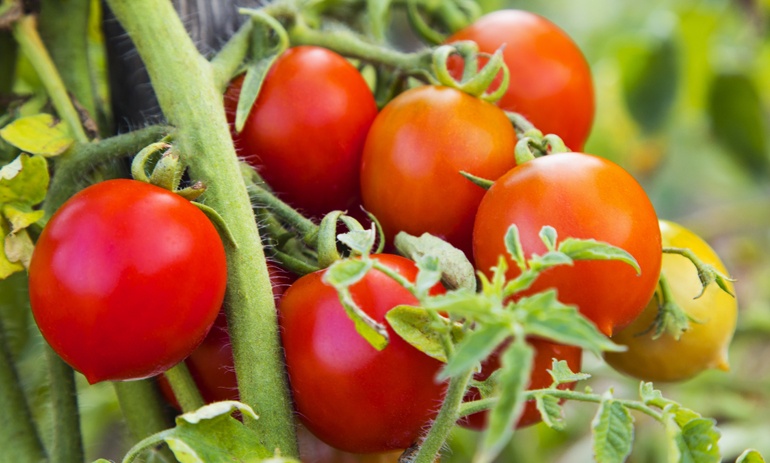 I hope your 4th was fantastic!  Our veggies loved the rain. So now I have a question for you; are your tomatoes 5′ tall?  No? Are you jealous?  Next year set up your pots and beds the way I did and yours will be too.
Seriously though … I have seen a lot of plants lately at clients and friends homes and mine are twice the size and at least twice as full. I can't hardly take any credit for the size and fullness of my plants though. I was simply following the directions of my brother and used his tried and true method. Here it is again:
Place pots in full sun
Line bottom of pot with 1/2″ of Black Earth Compost
Add thin layer of Healthy Start 3-4-3 fertilizer
Fill pot with potting mix up to the bottom of the root ball
Plant the plant, backfill around it with more potting mix
I added Soil moist mixed in around the plant at this step to retain more moisture
For a pot, do 2 finger holes on opposite sides of the pots and fill with fertilizer
Add 1/2″ Black Earth compost to the top
Another thin layer of Healthy start
Keep everything watered regularly and you can expect these kind of results! As you can see there are tons of tomatoes throughout the plants, many more flowers as well so we should have a bumper crop.
The cucumbers are forming from the flowers at this point as are the jalapeno peppers.  I did lose my orange bell pepper, just got crowded out by the tomatoes.  I'll be removing the Pea pods very soon since it looks as though they are just about done producing.  Once these are gone there will be more room for the cucumbers.
I did also end up leaving the carrots (tons of them) with the cucumbers.  Trying to transplant them wasn't working when they were just sprigs, just too tender to move.  The cucumbers have completely covered them so I don't expect they will make it to maturity.
Stay tuned … our next challenge will be the pests that are starting to get at the fruit. We are going to stay all organic so we'll see how things go.